19 SEPTEMBER, 2019
Employers' Health Costs Could Rise 6% in 2020
Large U.S. employers are predicting that their health care costs for 2020 will rise a median of 6 percent if they don't make any cost management adjustments, and by 5 percent if they adopt cost management initiatives, such as alternative network models, or renegotiate their contracts, a new survey shows.
Roughly 41 percent of large employers plan to use cost-management tactics to reduce projected health plan cost increases.
Large companies estimate that their total cost of health care, including premiums and out-of-pocket costs for employees and dependents, will rise to $15,375 per employee in 2020, up from $14,642 per employee this year, according to the 2020 Large Employers' Health Care Strategy and Plan Design Survey by the nonprofit National Business Group on Health (NBGH). The survey was conducted in May and June, with responses from 147 large, self-insured multistate and global employers that offer coverage to more than 15.6 million employees and their dependents.
Large employers will cover nearly 70 percent of health care costs for their workforce next year—unchanged from 2019—while employees will pay about 30 percent, or nearly $4,500.
Plan premiums and annual cost increases are often higher for small and mid-sized employers that lack the bargaining power of the big corporations polled in this survey. On average, small businesses pay about 8 percent to 18 percent more than large firms for the same health insurance plans, according to the National Conference of State Legislatures. Health insurers may charge different premiums to small employers based on the employer's industry or the employer's prior health claims.
Stable Premium Increases
Large employers have had the same annual cost-increase expectations each year since 2015, so while the predicted increase again outpaces general inflation, it has not been escalating—unlike the large spikes in health plan costs that employers faced every year in the 2000s, NBGH president and CEO Brian Marcotte said.
While this constancy in health care cost trends provides some level of predictability to employers, "it is still a sizable increase in health care budgets, well above general inflation and representing millions each year for the average large employer," he noted.
On the bright side, the survey shows that actual plan increases have been roughly 1 percentage point lower than employer predictions over the past several years (actual cost increase data for 2019 isn't available).
Click on graphics to view full size in a separate window.
"Employers tend to be conservative with cost projections so that health benefit budgets for the coming year can absorb unexpected price increases," such as a bigger jump than expected in the price of specialty medications, Marcotte explained.
A Similar Forecast from PwC
Consultancy PwC also projects a 6 percent medical cost trend in 2020, a slight uptick over the past two years, with revised estimated cost growth for 2018 and 2019 coming in at 5.7 percent for both years. After figuring in health plan changes, such as increased employee cost-sharing and network and benefit changes, PwC projects a net growth rate of 5 percent in 2020, which again dovetails with the NBGH forecast.
"Employers are taking a more active role in managing health care costs," PwC reported. "For example, they're negotiating contract prices themselves, setting up provider networks and even building a parallel health system to take care of employees at more manageable costs."
The PwC survey, conducted from February through June, asked health industry executives, health benefits experts, and health plan actuaries whose companies cover more than 95 million employer-sponsored large group members about their estimates for 2020 and the factors driving those trends.
A Lower Forecast from Mercer
The average total health benefit costs per employee will rise by 3.9 percent in 2020, down from a projected 4.4 percent increase in 2019, according to early results from the 2019 Mercer National Survey of Employer-Sponsored Health Plans, based on responses from 1,511 U.S. employers surveyed from June through August.
Since 2014, the underlying medical trend—the amount costs would rise if employers renewed plans without making changes—has cooled from 8 percent to 5 percent, easing some of the pressure to make short-term cost cuts, Mercer found. During this time, employers have been adopting tactics that seek to reduce cost via improved health outcomes, such as targeted support for specific health conditions and steering plan members to higher-quality providers.
Cost-shifting to employees may be less of a factor than in recent years, with just 43 percent of responding employers raising deductibles or otherwise cutting benefits to hold down cost in 2020.
AON Finds Employer Costs Stabilizing
Health care benefit cost growth in the U.S. is expected to rise 6.5 percent in 2020 according to consultancy AON, the same percentage AON expects for 2019, but still nearly double the rate of general inflation. The stability of the cost trend "is driven mainly by moderate price and minimal utilization increases," according to the firm's 2020 Global Medical Trend Rates Report, based on responses from clients and carriers represented in the portfolio of the firm's medical plan business.
While prescription drug costs remain volatile, driven mostly by specialty drugs, spending is being kept in check by "aggressive negotiations and management of pharmacy costs through formulary design and utilization monitoring."
CDHPs as an Option
Fewer employers are offering only a consumer-directed health plan (CDHP), a high-deductible health plan linked to a health savings account (HSA) or a health reimbursement arrangement (HRA). In response to employee feedback, the number of employers offering only CDHPs for health care will shrink to 25 percent in 2020, down from 30 percent this year and 39 percent in 2018, the NBGH survey showed. Instead, employers are offering additional coverage choices like a preferred provider organization (PPO) plan.
"Employees want to have options, and employers are responding by re-introducing choice," Marcotte said.
Altogether, 89 percent of large employers will sponsor CDHPs in 2020: 64 percent as one option among others and 25 percent as a full replacement for other types of plans.
At the same time, a larger percentage of employees are enrolling in CDHPs, which generally have lower premiums than other plan types, the survey revealed. This year, the median participation rate in CDHPs, when offered, is 46 percent, up from 35 percent in 2018.
Employer Account Contributions
Next year, the annual limit on HSA contributions will be $3,550 for self-only and $7,100 for family coverage. HSAs can be funded by both employers and employees, and the survey shows that 83 percent of large employers will contribute to HSAs for workers enrolled in high-deductible health plans in 2020. Common types of contributions will include:
A predetermined amount per participation (63 percent).
Contribution-based on participating in or completing a program to improve health (24 percent).
Contribution to getting an annual physical/wellness exam (16 percent).
Matching contributions (14 percent).
Wage-based account contributions (8 percent).
Seeded funds in new HSAs only (3 percent).
Fewer employers are tying account contributions to wellness program participation or competition for both HSAs (24 percent in 2020, down from 34 percent in 2019) and HRAs (32 percent, down from 48 percent), possibly because of uncertainty over liability under the Americans with Disabilities Act and the Genetic Information Nondiscrimination Act.
Employees' Health Spending Outpaces Wage Gains
Health spending by families with large employer health plans increased two times faster than workers' wages over the last decade, on average, driven in part by rising deductibles, according to an August 2019 brief by the nonprofit Kaiser Family Foundation (KFF).
Over the last decade, health costs paid by families covered by large employers, including premium contributions and out-of-pocket spending on health services, increased 67 percent to $7,726 from $4,617, KFF found. Over the same decade, average health costs paid on behalf of workers by large employers in the form of premium contributions for family coverage increased 51 percent to $15,159, from $10,008.
Telehealth
To manage costs and improve employee health and well-being, more than half of large employers are planning to expand the range of telehealth benefits to include services such as mental health counseling and app-based physical therapy consults, said Ellen Kelsay, chief strategy officer at NBGH.
Nearly all large employers will offer telehealth services for minor, acute services next year, and 82 percent—a number that could grow to 95 percent by 2022, employers indicated—will offer virtual mental health services.
While 23 percent will offer virtual services such as online physical therapy next year to manage musculoskeletal issues—such as joint and back pain—another 38 percent are considering it by 2022.
[SHRM members-only toolkit: Managing Health Care Costs]
Decision Support and Claims Assistance
Employers are simplifying the consumer experience for their employees. Access to second-opinion services and full-service concierge programs that help employees navigate the health care system is becoming more common, as are services that provide assistance resolving disputed claims. These resources "point to the right solution at the right point in time when employees need it," Kelsay said, and are particularly useful for employees managing chronic health conditions.
Often, health care navigation tools go unused because they are "out of sight, out of mind," Kelsay said. These platforms are becoming more personalized, so employees are more likely to visit and use them.
"While telehealth, prescription management, and condition management programs are all useful, they will have little to no impact on costs unless employees understand their value and why and how they should use them," said Kim Buckey, vice president of client services at DirectPath, a benefits education, enrollment and health care transparency firm.
As with most other cost-saving tools, "the onus is on employers to educate their workforce about 'what's in it for them.' Otherwise, they are likely to be perceived as just one more set of hoops for employees to deal with," Buckey noted. "A more personalized, one-on-one approach, such as advocacy services—helping employees after they've received care, and their bills—and encouraging use of primary care doctors, can have greater potential to exert downward pressure on rising costs."
Surprise Billing Help
Employers are now more likely to offer advocacy support for claims assistance, which includes help resolving surprise billing—devastatingly high charges for emergency care at an out-of-network facility "or when, without the patient's knowledge, an in-network surgeon at an in-network hospital is assisted by an out-of-network radiologist or anesthesiologist, for example," said Steve Wojcik, vice president for public policy at NBGH.
Surprise medical bills have gotten more common and more expensive, according to a new study published in the Journal of the American Medical Association.
Even employers that don't provide third-party claims assistance services are intervening over surprise billing, Wojcik said. A separate survey of NBGH members conducted last year showed that 91 percent engaged in advocacy around surprise billing on behalf of their employees, to either eliminate the bills or reduce them to charges closer to in-network rates.
Specialty Drug Costs
High-cost specialty drugs are employers' top concern in managing pharmacy benefits, the survey showed. "Employers are very concerned about how to finance the high cost of new million-dollar drug therapies," Marcotte said. "Some of these therapies will cost more than what an employee will earn in a lifetime."
Also regarding prescription drug costs, 20 percent of large employers will have programs applying drug manufacturer's rebates directly to consumers at the pharmacy next year, up from 18 percent this year. Some 60 percent of survey respondents are considering point-of-sale rebate programs for 2021 or 2022.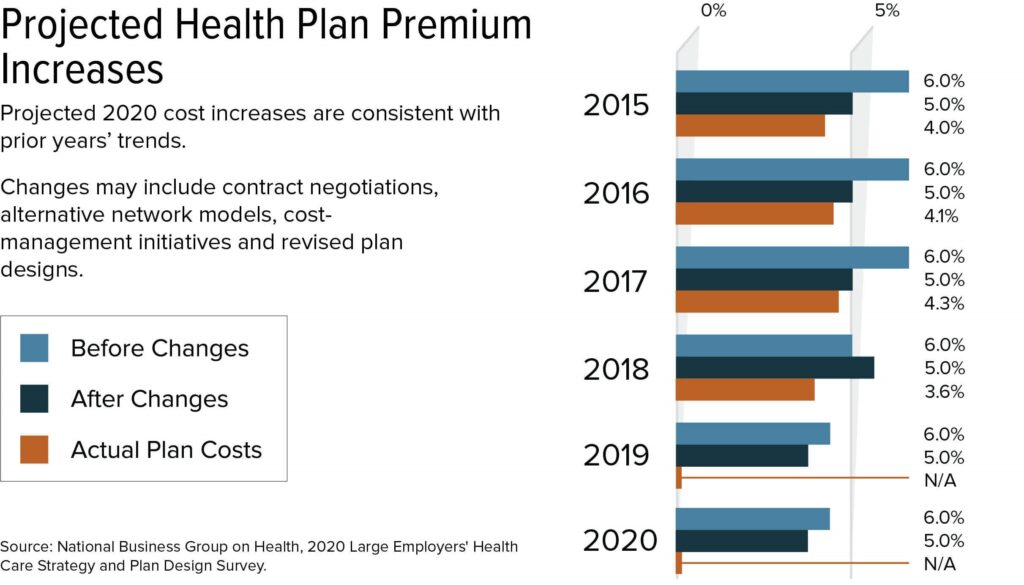 Specialty Drugs Dominate Costs
Specialty drugs accounted for less than 1 percent of prescriptions last year yet totaled 40 percent of total drug costs, according to data from Willis Towers Watson's Rx Collaborative, a group purchasing coalition with more than 400 employers. In addition, the top 10 drugs by gross cost accounted for 20 percent of employers' pharmacy spending in 2018.
The top three drugs ranked by gross spending last year by collaborative members were specialty injectable immunotherapy drugs for conditions that include psoriatic arthritis, rheumatoid arthritis and Crohn's disease.
New Health Care Models
Employer interest remains strong in offering alternative health care delivery models, such as coordinated care by treatment providers that partner in accountable care organizations and giving employees incentives to choose providers in high-performance networks with proven track records for quality care at competitive prices, NBGH found.
Nearly a third (31 percent) of respondents plan to implement either or both strategies in 2020, either by contracting directly with health care providers or through their health plan, and that percentage could nearly double to 60 percent by 2022.
Corporate employers are also contracting with, and subsidizing employees to travel to, health care centers of excellence (COEs)—treatment centers deemed to offer high-quality, cost-effective care. In 2020, survey respondents plan to partner with COEs for these specialized services:
Orthopedics such as knees, hip and spine treatment) (47 percent).
Fertility (38 percent).
Maternity (17 percent).
Mental and behavioral health (10 percent).
Substance abuse (10 percent).
Primary Care Strategies
"While primary care doesn't account for a large portion of U.S. health care costs, it influences nearly 90 percent of overall cost and quality through referrals and decisions around testing, procedures and hospitalizations," Kelsay said. She noted that advanced primary care models have moved away from fee-for-service and instead pay providers negotiated rates to deliver comprehensive health management services for an organization's workforce, using the primary care physician's office to coordinate services provided by health care specialists, for instance.
Forty-nine percent of large employers plan to pursue an advanced primary care strategy in 2020, and another 26 percent are considering one by 2022, the survey found. While 9 percent directly contracted with primary care providers, 17 percent are considering doing so for 2021 or 2022.
Average Cost for HMOs Dips Below PPOs
Only 14 percent of workers with employer-sponsored health coverage were enrolled in health maintenance organizations (HMOs) in 2018, down from a peak of 33 percent in 1996, according to Mercer's National Survey of Employer-Sponsored Health Plans, with responses received last year from more than 2,400 employers.
HMOs provide richer coverage than PPOs and traditionally have been more expensive, noted Beth Umland, director of research for Mercer's health and benefits business. "Over the past two decades, that fact has led employers in many parts of the country to drop HMO options," she wrote. "But in 2017 HMO coverage cost a little less than PPO coverage, and in 2018 it cost a lot less"—$12,235 per employee on average vs. $13,178, among large employers.

Related SHRM Articles:
Average Family Premiums Now Top $20,000, Employers Say, SHRM Online, September 2019
Employers Broaden Well-Being Programs, SHRM Online, September 2019
The Pros, Cons and Possibilities of Onsite Health Care, SHRM Online, July 2019
Employers Can Help with 'Surprise' Out-of-Network Medical Bills, SHRM Online, May 2019
Small and Midsize Employers Can Contract with Health Providers, SHRM Online, May 2019
Employers Cut Health Plan Costs with Reference-Based Pricing, SHRM Online, May 2019
15 Ways Employers Can Reduce Health Care Spending That Aren't Cost-Sharing, SHRM Online, February 2019
Telemedicine Improves Health and Saves Money, If Employees Use It, SHRM Online, May 2018
Related SHRM Quiz:
Quiz: Strategies to Manage Health Care Costs, SHRM Online, 2019
Source: https://www.shrm.org/resourcesandtools/hr-topics/benefits/pages/2020-large-employer-health-costs-expected-to-rise.aspx
Published August 20, 2019
Updated September 19, 2019